Five ways to up your Instagram marketing game
1. Plan, plan, plan!
My number one tip for Instagram marketing is to plan your content in advance. If I had a pound for each time I was asked "why aren't we getting any new followers?" and "why is our engagement so low?" then I'd be writing this article poolside in my Hollywood Hills duplex.
For startups, who fly by the seat of their pants, finding the time to create social media content is a problem of time and/or budget constraints, and for more established businesses, content often goes a bit stale over time. So how can planning your social media content increase acquisition and engagement rates? I would ask you to consider the following.
Rushed content is usually sub-standard and has a higher chance of having grammatical errors and typos than a planned piece


No research = pointless posts – do your audience even care what your content is about? Do they want to see it?


You can quickly veer away from your Instagram marketing strategy without proper planning and therefore miss the objectives and goals you set out to achieve


You'll work much more effectively and efficiently when you plan If you're still not convinced, look at it this way – would you rather publish a week's worth of second-rate posts that nobody cares about or one researched piece of content you know will resonate with your audience and get them interacting with you?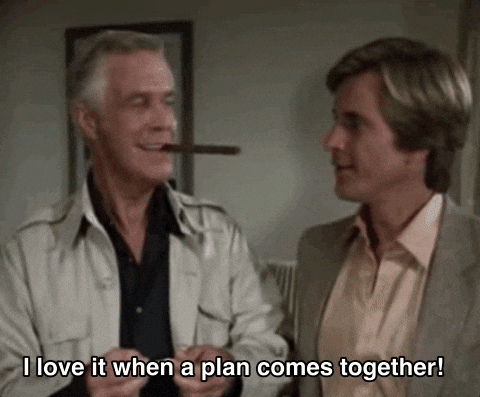 You'll be pleased to know that planning your content on Instagram can take as little as half an hour a week with a bit of organisation and the right tools.

First off, you'll need to create a content plan (a.k.a. content calendar), you can find a basic one I created, here.

Make a copy of the plan then populate your copy with everything you want to talk about throughout the year, for example, In April you might want to cover Easter and in December, Christmas.
Once you have the bare bones of what you have coming up during the year, you can start to look at how that content will play out weekly. Take a look at the below screenshot of an example content plan and think about what types of posts you would want to use for each piece of content – should you create some Instagram stories for your PR event in July? How many stories will there be?
If you're really strapped for time, you could stop the planning here and check the calendar each day to remind yourself what you wanted to post. Or, you could go all-in and write in your content in full every week – this is useful for those that want to schedule lots of content at once, or if a senior member of the team needs to approve it.
So, what else do you need to be able to plan your content effectively and efficiently? How about an Instagram profile feed designer? My favourite app at the moment is Feedr. It's free to use and allows you to quickly test out how your content will look in your Instagram feed – a must if you want to create interesting grids like the below example. This app is available for free on iOS and Android, so there's no excuse for not having a play with the features.
My new clients often worry about the time it could take to set up planning documents, but believe me, it becomes second nature in no time, and you'll be working much more efficiently and effectively once you get going.
2. UGC is your friend & made for Instagram marketing

Sharing follower content isn't a new tactic, but can often be overlooked in favour of some readily available stock imagery. Tapping into other user's creativity helps you in two ways.
You get a free piece of content
The user gets a mention by your brand
Adobe knows precisely how to curate user content and has made an entire Instagram feed out of other user's content – and doesn't it look AMAZING? This tactic works as I described above; Adobe gets a killer feed, and the user gets their work featured by one of the biggest names in the creative industry. Adobe regularly changes the content theme for its feed, just look at the stunning imagery being offered up for the #Adobe_Wild UGC campaign, below.
How can you translate this into your own Instagram content strategy? Start by running a few searches on hashtags that are relevant to your brand and discovering the content around your themes. Once you've identified a few likely candidates, reach out to them to see if they'd be interested in allowing you to re-post their photo. You should be very clear in what you're asking for and assure them that you will credit them in your post (usually by tagging them in the photo and also adding their Instagram handle in the copy of your post).
3. Check you're using all the fancy features

Like any social platform, Instagram continually rolls out updates and new features so it's good to try and keep up with what's new and think about how you can use new features to promote your brand. Instagram Stories Stories get prime real estate at the top of the Instagram app main feed and are a great way to capture live events or flash sales (try out the countdown sticker for this one, followers can opt to get a reminder of when your event is starting).
Video & Instagram TV
You should already be aware that video is the best way to engage the digital audience and, alongside its standard 60-second video length, the introduction of Instagram TV now offers creators videos up to 10 minutes in length (if you have a verified Instagram account, you can actually upload videos up to 60 minutes in length).


Paragraph breaks are here!
You can finally ditch those full stops as Instagram has finally enabled the use of the 'return' key. Oh, the small things do please me 🙂


Connect your Facebook shop or Shopify catalogue to your Instagram profile to unlock new features
Let your followers know they can shop directly from your feed (read more about the new Instagram shopping features in my earlier blog post). If you don't have a Facebook or Shopify store, you can quickly create an online store with services such as InstaMojo instead.


Adding more than one link in your bio
Okay, this isn't strictly a native feature, but I thought it could do with a mention in this section. Using a service like Linktree will allow you to have a landing page that lists all the links you want your audience to access. If you want to go a step further and be more creative, you can create a mobile optimised branded web page with your links, then use that link in your Instagram bio.
4. Take a gentle approach to selling

Consumers are no longer blind to Instagram marketing tactics and will call out a hard sell from a mile away – scratch that, they'll call out a soft sell from another continent. Great content and effective storytelling are what will sell your product or service on social media, both of which tie in to a much more gentle approach to selling.
Things to try
Tease your audience with product features
Build anticipation with your audience by giving them a sneak peek of new products before they launch. Teaser content is also a great way to capture email data, e.g. "want to be the first to know about our amazing flying pigs? Sign up here!"


Get to grips with hashtags
To increase the reach of your content and find consumers who are likely to be interested in your brand, use a free tool like Hashtagify to explore the popularity of specific hashtags and see who's using them.


Interact with your audience
Being ignored is the number one turn-off for potential buyers on social media and is something that often comes up during my social media training sessions. If a user has taken the time to comment on your post, you should reply. If you have an unusually large following, it's not always possible to reply to every comment you receive, but try to respond to as many as you can.


Let your product or service sell itself
Social media is less about selling and more about showing how your product or service will fit into the viewer's life. Instead of the traditional your problem + our solution = happy you formula, showcase the lifestyle benefits of your product, or by showing how easy it is to use your service using video content.


5. Understand who you're up against

Each social media platform news feed is powered by a unique algorithm that automatically sorts and displays content according to how interested it thinks a user will be in that piece of content. For example, if you interact with Aunt Petunia's Facebook content regularly, the Facebook algorithm will assume you are very interested in her content, so it is likely to show you more content from her.
If you want to get your content in front of as many eyeballs as possible, then you need to start taking more of an interest in these algorithms. In 2018, Instagram's algorithm had a significant overhaul, and Facebook is set to follow suit shortly. Algorithms are regularly updated, and while some of the smaller updates will make little difference to the positioning of your content, substantial updates often contain changes that can make your reach drop off the edge of a cliff, so it makes sense to keep an eye on what's happening.
Finally, make sure you regularly check up on who your competitors are and what they're doing on Instagram. I'm not talking about looking at competitor content and blatantly copying it, instead see what you can learn from them – what did they do that worked? What did they do that didn't work?
---

Do you need help with your Instagram marketing?
Whether you need help launching a new Instagram channel or you'd like to improve the engagement and reach of your existing profile, I can help you to strategise, create content, and increase audience engagement.
Drop me a line for a no-obligation chat about how I can help your business to achieve more on social media.